Our hotel is an ideal base from where to explore Pattaya attractions.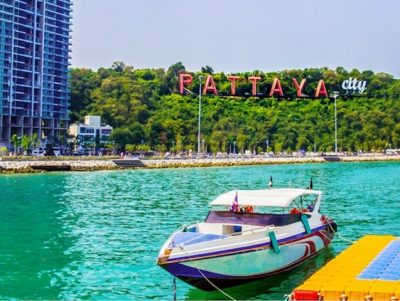 Located at Pattaya beach road.600 m. from hotel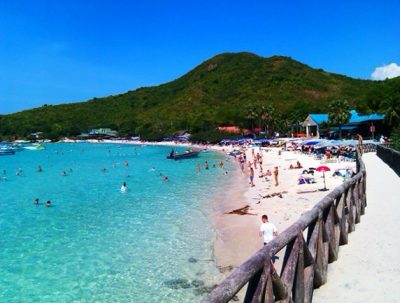 Lying about 7.5 kilometers off of Pattaya by a 45-minute ferry or 15 minutes by speed boat ride, the island measures 2 kilometers by 5 kilometers and offers several white sandy beaches, notably Hat Ta Waen, Hat Laem Thian and Hat Thong Long, the latter facing coral reefs. Visitors can choose either snorkeling or viewing the coral from glass bottom boats. Ferries to the island leave South Pattaya pier daily from 10.00 a.m. to 6.30 p.m. Cruises by sailing junks, with lunch provided are also available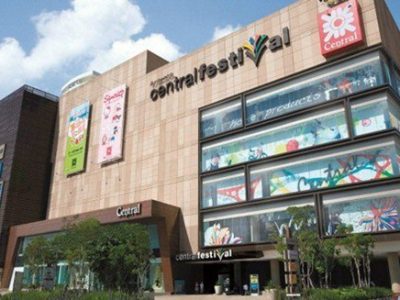 Central Festival Pattaya Beach
Located in the Central Pattaya zone. 500 m. from the
Big tourist attraction in the heart of Pattaya on Pattaya Beach Road Regarded as the most popular shopping area in Pattaya Whether Thai people are foreign, they have to come and shop here.
Central Festival Pattaya Beach has a total of 6 floors, complete with everything to choose from, really full, every floor.In front of the courtyard is a lot of activities that are held, whether it be Pattaya Music Festival, Singing Contest or others, Jewelry store, OTOP product, pharmacy, cinema, view point, Pattaya, most beautiful Can watch both sides The recommended viewpoint is Ploen Talay Seafood Buffet restaurant on the beach side, 5th floor. The 6th floor will be SF Cinema, Karaoke, Top Restaurants, and Mario Land.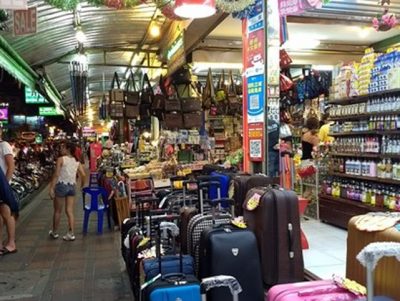 Made in Thailand night Bazaar
Located in the Central Pattaya zone. 260 m. from hotel 
Pattaya Night Bazaar is a comfortable, covered and air-conditioned recreation of a Thai street market. Primarily targeting the tourist market, it is a good place to stock up on souvenirs and summer clothes without suffering the endurance test which many of the other markets in Pattaya often become. While some of the outdoor markets in the city can get very stuffy in the heat of the day, particularly the ones with very narrow gaps between each stall, a visit to Pattaya Night Bazaar lets you get that much-needed retail fix whilst beating the heat; each of the stalls are housed in permanent structures, with a wide path between them and the whole edifice is well-lit and ventilated, making a perfectly pleasant shopping experience.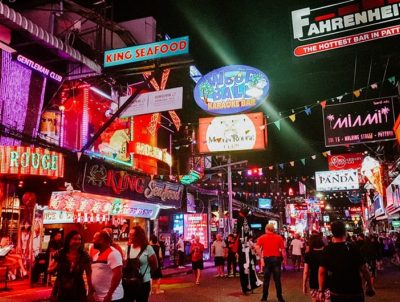 Located in the South Pattaya zone. 1.5 km. from hotel. Next to South Pattaya Beach until reaching Bali Hai Cape Convenient transportation there are two rows of cars running through. The entrance is adjacent to the beach road. There is a big sign that says Walking Street is clearly visible. Walking Street will be transformed from the road where the normal car runs into a pedestrian street from 18.00 hrs. Which allows tourists to walk in only. Is a place to visit in the night when arriving in Pattaya and not entering this pedestrian street As if not yet arrived in Pattaya This walking street is a tourist attraction that is well known to tourists. On the road is full of tourists from all over the country, both Thai and foreign, lined with entertainment, pubs, bars, shows, famous restaurants and shops that are decorated with light-colored signs. Can be said to be a meeting place to meet popular people in the night of tourists In addition to eating, drinking, talking, there are also lots of shows. Not only in entertainment venues that have shows only If you enjoy walking At some point, there will be an actor opening the hat. That shows amazing talents, such as magic shows, actors dressed in imitation of famous characters in Hollywood movies, etc.
Opening hours: Open to people from 18:00 until 02:00.