Sawasdee Bangkok Inn, Khoasan Road
Sawasdee Bangkok Inn is one of the most beautiful hotels on the Khaosan Road area. Our guests will enjoy the unique colonial architecture and the charm of the old Siam. Our rooms, decorated with the antique teakwood and inviting colors, reflect a bygone era in Thailand.
Sawasdee Bangkok Inn is located in the historical district of Bangkok "Phranakorn" and the hotel is situated on the middle Khaosan Road offer budget accommodation with 24 hours service and friendly good command English spoken receptionists. All 69 rooms feature Air conditioning , private bathroom with hot shower , cable TV, refrigerator and free WIFI.
Sawasdee Bangkok Inn is just a 10 minutes' walk to Grand Palace, Wat Pho and Chaopraya River. A 15 Minutes' drive to Siam center, MBK shopping mall and 10 Minute to Hualampong Railway Station. Nightlife and Market Street food are surround the hotel while room very cozy & quiet to sleep.
Sawasdee Bangkok Inn is located on the vibrant shopping district of Khaosan Road. Close to the capital's main tourist attractions such as the Grand Palace, Wat Phrakaew Temple of the Emerald Buddha, The Marble Temple of Wat Benchamabophit and Vimmanmek Royal Palace, the hotel is the ideal base from which guests can explore the culture and history of this eclectic city.Featuring colonial architecture and reflecting the charm of old Siam, the hotel sits charmingly amidst its surroundings. The guest rooms are decorated with antique teakwood and feature vibrant colours and relaxing comfort making them the perfect place to relax after a long day exploring the city.
Booking.com
Nicky
10 Excellent
Location near to 7eleven,mall,public transport and party place. Easy to find a local food and massage. The staff very friendly. Next time i'll booked again this hotel
Reviewed 02 January 2020
Agoda
Tanapon
8.8/10
"ชอบพนักงานผู้หญิงมากตอนรับ"
พนักงานเป็นกันเองมากๆ พนักงานตอนรับ
Reviewed 02 December 2020
Agoda
Pornchanit
10 Excellent
"สะอาดระดับ5ดาว"
ชอบมากค่ะ พนักงานต้อนเป็นกันเอง ป้าแม่บ้านใจดี ห้องพักออกแบบสวยน่าพัก ใกล้แหล่งท่องเที่ยวมาก และห้องสะอาดมากๆเลย ปลื้มค่ะ คุ้มค่า
Reviewed August 2019
Traveloka
Boonchok N.
9.7/10
ประทับใจมากครับ ห้องพักสะอาด แอร์เย็น ห้องน้ำดี
Reviewed November, 2019
Traveloka
Arunwatee K.
9.1/10
โรงแรมสวย สะอาด หลับสบาย แอร์เย็นดีมากค่ะ ขนาดของห้องเหมาะสมกับราคา ให้บริการด้วยความสุภาพและให้คำแนะนำในเรื่องต่าง ๆ ดีมากค่ะ โดยรวมแล้วประทับใจมากค่ะ ถ้ามีโอกาสจะเลือกใช้บริการอีกแน่นอนค่ะ
Reviewed 29 December 2018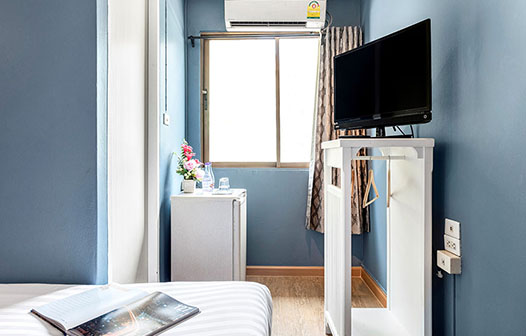 Superior Premier Room
Our 20 sqm Superior Premier Rooms have been designed keeping your comfort in mind.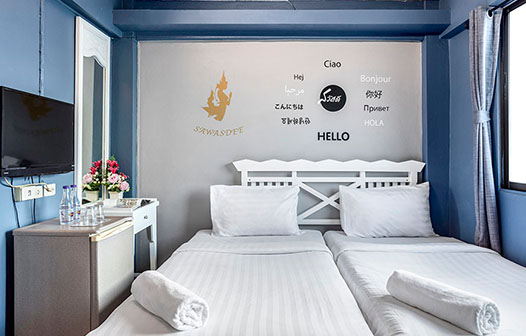 Superior Triple Room
Our 22 sqm Superior Triple Rooms are our most spacious and comfortable rooms.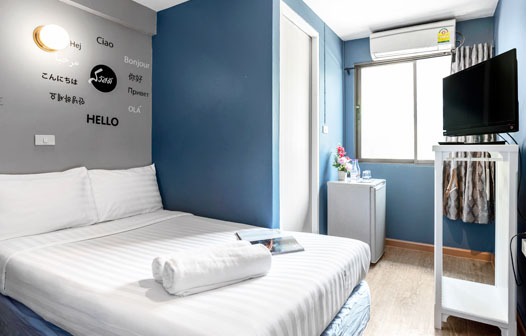 Standard Premier Double Room
Our newly refurbished Standard Premier Rooms offer a comfortable and contemporary retreat in which to relax after a day in the city.